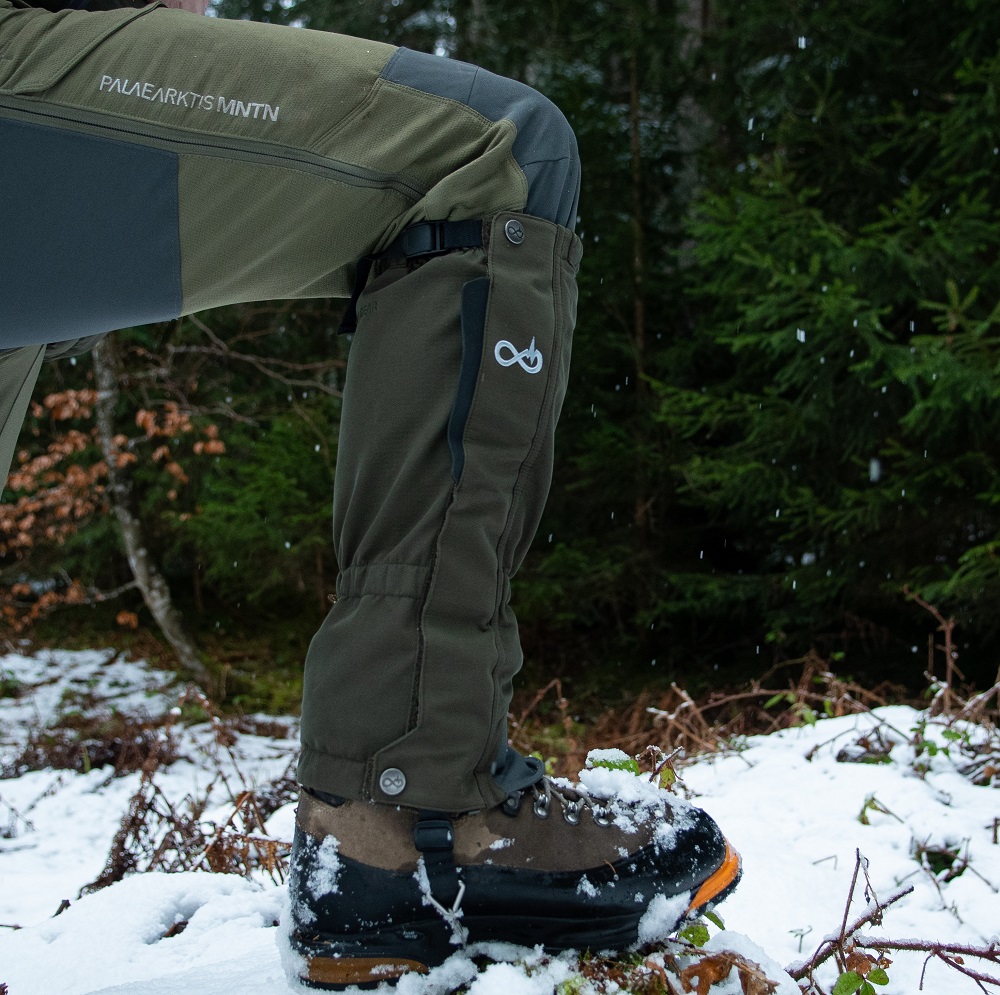 The ALPINIST Gaiters 37.5® are the ultimate gaiters for demanding use in wet grass, snow and ice. Over two years we developed, tested and improved until finally everything fitted. These gaiters convince on the hunt and should inspire every ingrained alpinist. The most important criteria in the development were low noise and unconditional quality. The olive-coloured upper material of the gaiters is also used in our HYBRID trousers. It is a very robust 3.5-layer fabric with a waterproof, highly breathable membrane in the middle with excellent values (min. 20.000mm / 20.000gr/qm²) and 37.5® technology. Inside, soft micro-waffle fleece warms and ventilates, while a robust, slightly roughened nylon blend fabric protects against abrasion on the outside. The outer fabric is water repellent thanks to an improved, environmentally friendly (PFOA & PFC free) DWR coating.
At the upper belt the width of the gaiter can be adjusted by means of a textile strap and a solid plastic buckle. A rubberised inner waistband prevents the gaiter from slipping. Not at the back, not at the front, but ergonomically placed diagonally at the front outside, a strong YKK®-zipper sits under a wide Velcro strip, which keeps branches and the like from the zipper and can be additionally secured at the top and bottom with strong push buttons. The large slider of the zipper is in Merkel-typical matt neon orange, so that it can be found immediately when putting on the ALPINIST gaiters. We have paid particular attention to the anchorage on the shoe: one-sided adjustable Hypalon strap, triangles made of blasted stainless steel and a silicone-coated stainless steel rope suspended in them keep reliable contact with the shoe and are not impressed even by rocks. At the front of the gaiters, a strong shoe hook is anchored in the solid Nylon-Oxford to be able to be locked securely to the laces.
For an optimal fit, the gaiters are marked with "R" for right and "L" for left. An additional constriction above the ankle ensures a tight fit on the wearer's leg. Over the entire length, the gaiters are slightly longer at the front following the shin and a few centimetres shorter at the back in order not to press in the hollow of the knee. In order to guarantee an optimal wearing comfort, even for extended tours, the ALPINIST gaiter is available in two sizes.
Outer fabric: 3.5-layer-construction: 87% Polyester, 13% Nylon, DWR-finish (PFOS- & PFOA-free)
Grid-fleece backing: 100% Polyester with 37.5®-Technology for perfect breathability

Membrane: 100% PU-Membrane by 37.5® – min. 20.000g/m²/24h – 20.000mm
Size #8 YKK® Zipper + Velcro-flap and 2 strong snap buttons to close the gaiters
strong metal hook for shoe laces, INOX-steel cable and triangle (can be replaced)
Hypalon and buckle for length-adjustment
Gaiters are vailable in 2 sizes/ 2 length
Symbols for "left" and "right"