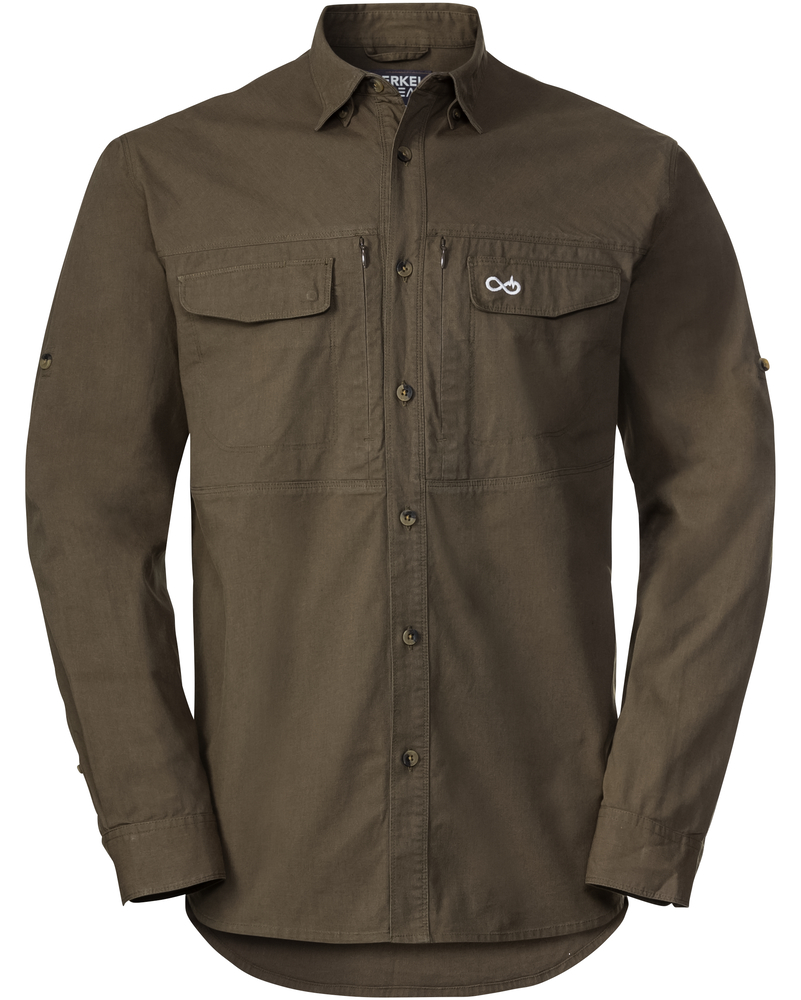 With the ILEX Pro Cordura® Shirt, our popular "Hunting Shirt" gets a further extremely improved successor! In our opinion this shirt is a completely new standard in the field of hunting and outdoor shirts. Once again we have been inspired by the tactical area: with the ILEX Pro Shirt we are expanding our cooperation with Cordura® and – as in the case of the ILEX Pro Pants – we are using a fabric from the NYCO® range of Cordura®, which is manufactured according to military standards. NYCO® fabrics are still completely unknown in Europe and especially in the hunting sector.
The fabric of the ILEX Pro Shirt consists of 69% finest cotton, 28% ultra-robust Cordura® nylon (T420 nylon according to military standards) and 3% elastane. The blend makes this fabric extremely strong and, thanks to the high cotton content and the transverse elasticity, also extremely comfortable to wear. The fabric, originally developed for the Japanese high-end sector, is transversely elastic and follows every movement. Although the shirt is not a lightweight, it can be worn wonderfully in tropical countries thanks to its very high natural fibre content. The notorious thorns of Africa have nothing to oppose this shirt! 
The fit is simply described as "well cut". Not too far, not too tight. If you like it tighter, you should try one size smaller. The shirt is slightly extended at the back as usual with Merkel GEAR and can be worn tucked into the waistband or comfortably over trousers. The sleeves are preformed, long enough and cut sufficiently wide. All seams on the "Ilex Pro" are designed as double felled seams, which are guaranteed to hold the construction reliably together. The so-called clean workmanship – a particularly clean finish, which is (unfortunately) often unusual in the hunting sector – was a particular concern of our developers.
The shirt features a concealed button-down collar that prevents contact between buttons and gun stock and, together with a safety button on the back, keeps the collar where it belongs at the crucial moment. The chest pockets of the hunting shirt are sewn in a modern integral style and have discreet cut-outs for pens. But the highlight are the two zipper pockets underneath with generous lateral access and Invisible-Zips from YKK®: you will hardly want to use the flap pockets, so convenient is the access to the side pockets, which, thanks to a mesh base, also serve as central, very effective ventilation when open! All buttons of the shirt are rubberized to minimize noise. The shirt has roll up sleeves. Spare buttons, loops to hang up the shirt, fine relief pleats on the back, four stitched air holes per armpit and a discreet logo embroidery round off this truly exceptional "hunting utility shirt"! S-3XL
Outer fabric: Cordura® NYCO®-fabric: 69% Cotton, 28% Cordura® Nylon, 3% Spandex
Fitting: straight fit with lots of technical stretch

In case you prefer a tighter fit – choose 1 size smaller!
4 pockets with integral-seams; 2 come with YKK®-zippers
Hidden button-down collar