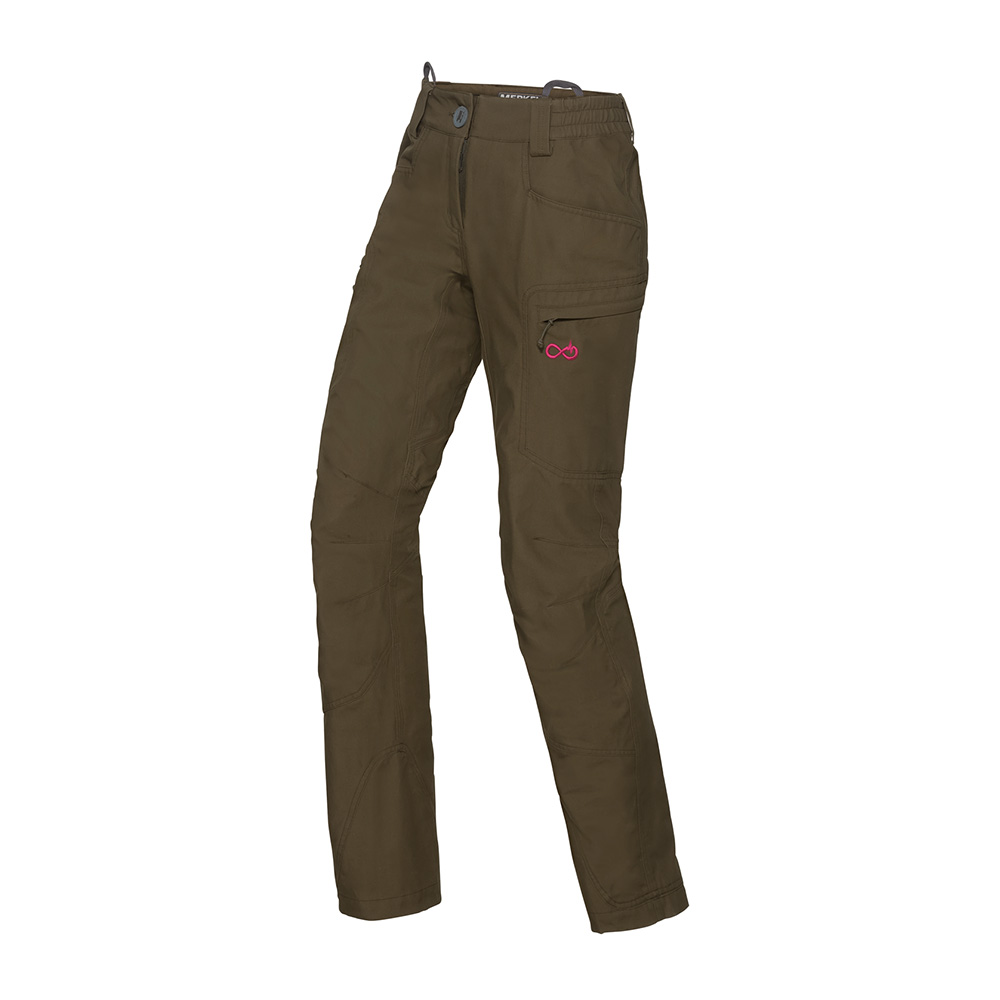 We proudly present the second generation of our popular ILEX district work trousers: the ILEX Pro for women. It took almost a year to find a fabric that could compete with the robust three-wire panama of its predecessor. It was important for us to have a slightly lower fabric weight with as much robustness as possible in order to be able to wear the trousers in warm countries – quite ambitious ideas. We finally found what we were looking for in the Cordura® NYCO fabrics, which are virtually unknown in Europe. They were developed for the tactical and workwear sector and are about three times more robust than conventional cotton fabrics. The fabric of the ILEX Pro weighs an impressive 270g and consists of 75% high quality cotton and 25% Cordura® Nylon (T420-Nylon Military Standard). The result is extreme strength, very high abrasion resistance and an extremely pleasant feeling on the skin. In addition, the ILEX Pro has an improved DWR finish (environmentally friendly PFOA and PFC-free), which allows water to bead up but does not affect breathability.
The rather conservative design of the old ILEX has been completely revised: a new cut, innovative lines and further improved standards of stitching should not disappoint fans of the old ILEX, but at the same time should appeal to younger hunters. For example, all particularly stressed seams are now triple seams; most of the horizontal seams point downwards to prevent water from attacking them. The MaxComfort waistband, which is very comfortable as always with Merkel GEAR, has been slightly redesigned and has been given two additional belt loops in addition to a semi-automatic zipper. Two side pockets offer plenty of space with really deep and durable pocket bags in the front; in the back there is a back pocket with a sturdy YKK® zipper. Two cargo pockets with YKK® zippers, manufactured using the integral seam technique, nestle inconspicuously against the thighs, but at the same time offer plenty of storage space. The right cargo bag has an integrated knife pocket.
All zippers are especially quiet without any jingling metal parts. The knees of the ILEX Pro are triple pre-shaped for a natural fit. The inner seams in the hem area, which are particularly stressed, were laid outwards in the shape of shark fins, as was already the case with the MNTN II. A discreet logo embroidery on the right leg and left on the cargo bag complete the picture of the new ILEX Pro, which has an excellent price/performance ratio and really presentable equipment for the hard everyday life in the hunting grounds!
Outer fabric: Cordura® NYCO® fabric: 75% Cotton, 25% Cordua-Nylon
Material of the pocket bags: 65% Polyester, 35% Cotton
4 pockets in the front + 1 rear pocket. Zipper size #5 by YKK®
Triple- and double-seams, worked with Madeira® yarns
Color: Oliv (there's also a brownish version
Very high breathability
3x pre-shaped knee-area
Straight, modern fit