Quest for the first Mouflon
Author: FX Date: 28/04/2018
Hunting sheep is something very special – especially when one comes from Germany, where there is no sheep within a couple thousand kilometers but the little meditarrean Mouflons. Due to the fact that wolfs are back to Germany since a couple of years (in fact they've always been hthere in eastern Germany), Mouflon are facing hard times as they seem to be a much easier prey for wolfes than red- or roedeer.

Together with huntingbuddy Eike, I had the chance to hunt with NaturaWild-Hunting travels in a Thuringian hunting area which still counts to the best Mouflon-areas in Germany. There was still lots of snow and we weer both happy to test samples of the new MerkelGEAR WNTR EXPEDITION collection, which is heavily padded with prime G-Loft synthetic down and therefore keeps you warm for hours and hours!

The hilly, stony country of the "Schiefergebirge" makes and ideal habitat for Mouflon. Our hunt was to be a typical German-stye hunt from high seats in woodland area. Mouflon do have a fantastic eyesight and because they seldomly travel alone, one or two pairs of eyes are always facing in the right direction… I however had the chance to shoot a 2-3 year old ram out of a group of 7 or so, which showed up only a hour after I took place on the stand.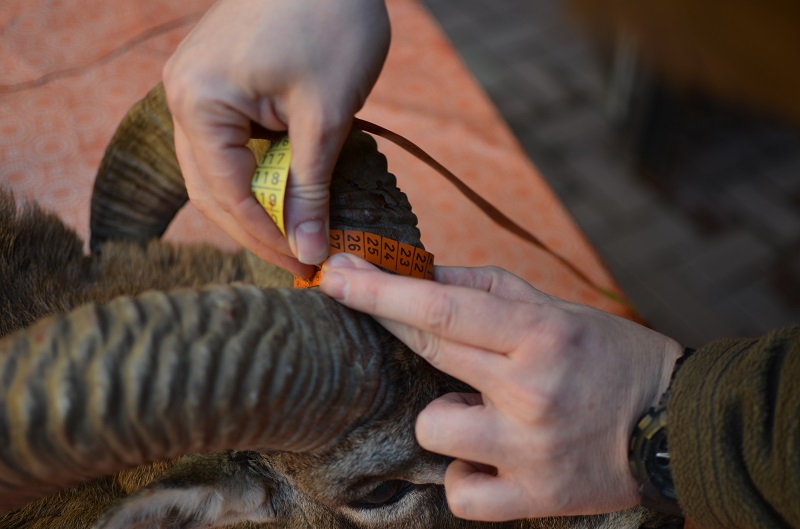 My B4 combined Merkel – topped with a 42'Leupold and Hornady ammo did a great job and after having found our ram, we made our way  carefully back to the nearest road for it was pretty risky country – especially after nightfall. This hunt will always have a special place in my heart for the snow, the dark Thuringian forstes and the very special sort of game made this an unforgettable moment!
Waidmannsheil – Dreispross